Snake and Ladders Mega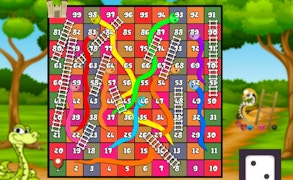 Snake and Ladders Mega
Enter the realm of fun-filled, nerve-wracking excitement with Snake and Ladders Mega, a blast from the past that reignites the charm of nostalgic board games. A cherished gem among family games, this masterpiece has traversed the boundaries of time, cementing its place in the hall of fame of two-player games.
Harking back to its ancient Indian origins, Snake and Ladders Mega reminds us of a simpler time when board games were a staple in every household. Originally called Moksha Patam, this game is akin to a spicy curry, inducing an addictive thrill that keeps you coming back for seconds. As one of your go-to 2 player games, you'll find yourself immersed in a thrilling race - not just against your opponent but also against your own luck.
The beauty of Snake and Ladders Mega is its sheer simplicity. With each roll of the dice determining your fate, you ascend the ladders with exhilarating anticipation or slither down snakes with heart-wrenching disappointment. But remember, it's not all about victory; it's about sharing laughter and excitement - making it an absolute crowd-pleaser in family games.
This classic game will have both young children cheering with joy and adults basking in nostalgia. As you navigate through blissful victories and agonizing defeats, you'll learn that winning isn't everything; instead, it's the journey that counts. So roll the dice, take a chance on luck, and embark on this timeless adventure with Snake and Ladders Mega!
What are the best online games?