Snail Bob 8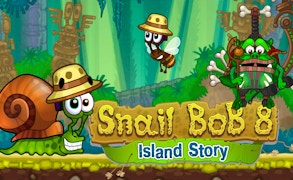 Snail Bob 8
Welcome all gaming enthusiasts, particularly the young and inquisitive minds, to this dynamic review of the most mesmerizing animal game that's been sweeping through our digital gaming world. We are about to unfold the enchanting adventures of Snail Bob 8, an immersive puzzle game that combines thrill and learning in one package.
Our dear friend, Bob, is a snail with a heart full of courage and a shell full of puzzles. In Snail Bob 8, Bob finds himself stranded on an uncharted island and he needs your strategic skills to chart his way back home. This latest installment is not just another regular puzzle game, but it enhances your problem-solving skills while keeping you entertained with its fascinating storyline.
This game entices not only the kids but also their parents with its cute graphics and intriguing in-game challenges. The gameplay engages you in multiple layers of complex puzzles which will test your logic and cognitive abilities. It also incorporates various dangers which must be avoided for Bob's safe return. So parents, if you're looking for engaging games for kids, your search ends right here.
The beauty of Snail Bob 8 lies not only in its colorful graphics but also in its ability to imbue players with a sense of accomplishment after every puzzle solved. The controls are intuitive and straightforward, making it easy even for the youngest players to navigate. All these elements work together seamlessly to ensure that every level feels like a new adventure.
In conclusion, Snail Bob 8 is an enthralling addition to your kid's gaming collection. If you're willing to embark upon an expedition filled with fun-filled puzzles and exciting adventures offering endless hours of enjoyment, then Snail Bob 8 is definitely worth exploration.
What are the best online games?
TAGS