Snail Bob 7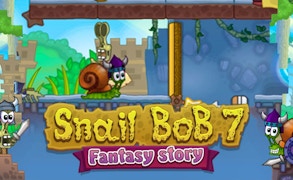 Snail Bob 7
Welcome to the world of Snail Bob 7, an enchanting realm where fantasy meets puzzles in a perfect symphony of entertainment. This is a universe that captivates the imagination of not merely children but also adults who are young at heart.
If you are on the lookout for exceptional animal games or games for kids, your quest ends here. In this magical terrain, Snail Bob navigates through enthralling adventures, crafting a captivating narrative that is infused with wonder, thrill and discovery.
A brainchild of interactive storytelling and phenomenal animation, Snail Bob 7 transports players into an enchanting utopia where they must aid our charming protagonist against mighty monsters and dashing knights, all while solving meticulously designed puzzles.
This isn't just an ordinary puzzle game to keep your children busy. It's a labyrinth teeming with dragons and wizards that tests their mental agility and fosters cognitive development. The unique amalgamation of fantasy elements with stimulating challenges distinguishes Snail Bob 7 from other run-of-the-mill children's games.
The vibrant visuals are utterly spellbinding, adding another layer to the already immersive experience. Each level is brimming with whimsical elements that ensure no two stages ever feel identical.
In conclusion, Snail Bob 7 truly stands as an epitome of inventive kids puzzle games. Its captivating narrative combined with its innovatively designed puzzles ensures it's not just a game but an adventure open for all to enjoy. Dive headfirst into the entrancing escapade of Snailbob 7 Fantasy Story – completely free! Give your grey cells a workout while you soak up the fantastical ambiance delivered by this extraordinary gaming gem.
What are the best online games?
Tags