Snail Bob 5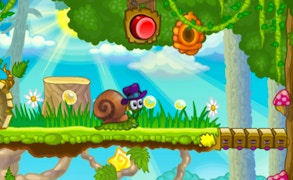 Snail Bob 5
Get ready to be captivated by the charming world of Snail Bob 5, a delightful addition to the realm of games for kids. This isn't just another puzzle game; Snail Bob 5 offers a heartwarming tale of love and adventure that is sure to enchant both young gamers and their parents.
This engaging animal game tells the story of our beloved hero, the famous snail, setting out on an epic journey. And what's his mission? To reach his one true love! Every stage is like a love letter filled with puzzles and challenges that you have to crack open to unfold Snail Bob's story.
In essence, Snail Bob 5 is a delightful blend of puzzle-solving and storytelling, charmingly wrapped in fun animations. The gameplay mechanics are simple enough for kids to understand easily, but the puzzles offer enough challenge to keep them engaged. As each stage unfolds, so does an endearing narrative that keeps players rooting for our little hero.
Apart from superb gameplay, Snail Bob 5 shines in its presentation too. The graphics are bright and colorful, perfect for catching kids' attention. Moreover, the cute character design will inevitably make players fall in love with this adorable snail.
In a nutshell, Snail Bob 5 is far more than just another kids' game with its blend of intriguing puzzles and heartfelt storytelling. If you're on the hunt for some wholesome family entertainment that combines learning and fun - look no further! With its captivating story, lovable characters, and enjoyable puzzles, Snail Bob 5 is a game that truly offers something for everyone!
What are the best online games?
Tags