Snail Bob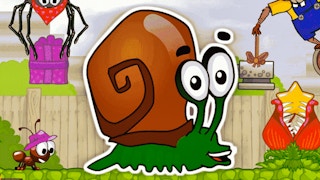 Snail Bob
Snails are small and relaxed creatures just trying to make their way forward at a constant but slow pace as you can see in Snail Bob. You're following the 2D journey of a cartoon snail named Bob who is harshly removed from his home. Having been displaced, Bob needs to find a new home and you need to help him out. Each level is a puzzle where you need to manipulate the elements at play in order to get Bob safely to the exit. In this way, you don't play Bob, but perhaps a guardian angel snail.
About Snail Bob
Puzzle games are a lot of fun when they're broken up into contained levels where you have all the information on one screen. That's the case here where it's very clear where Bob is, where he has to go, and what you can change to help him get there. However, the game applies a little bit of pressure to keep you moving since Bob never stops moving. In fact, this is one very active and fearless snail that you need to complement by keeping up his pace and as a result, keeping up your score. You and Bob have got a long journey ahead.
How to Play
Snail Bob is a puzzle game that is controlled entirely by the mouse. You can move the cursor around each level to manipulate the different tools which are typically outlined with a dotted white line. By clicking on the appropriate device (like switches and levers) you'll affect things like platforms and walls. Certain other elements like buttons will require Bob in order to work and by clicking on Bob himself, you can get him to curl up in his shell.
Bob is constantly moving forward, and you can change how fast he moves by clicking the icons in the top left corner of the screen. He starts by moving from left to right, but objects like spinning discs can cause him to turn around. If he hits a wall, he'll just keep pressing against it until it moves out of the way. Clicking him to get inside his shell is the only way to stop his movement yourself.
Each level has an opening that is clearly marked with an Exit sign and your goal is to get Bob there safely. If he becomes trapped or injured, you'll have to start the level. The longer you spend in the level, the lower your score will be. The score is marked at the bottom of the screen and will start ticking down from 300. Do your best to get Snail Bob to the exit as quickly as possible.
Tips and Tricks
Since there's no pause button, you can take time to do dry runs of each level so you can thoroughly analyze everything that's in play. Once you have a good readout of the situation, you can keep Snail Bob at top speed consistently for a better chance at a higher score. Always look for the most direct route.

Game Details
Developer: Hunter Hamster
Platforms: Web Browser (PC and mobile), iOS, and Android
Languages: English

Gameplay Footage
FAQsCan I play Snail Bob on mobile?
Although the game works perfectly well through a Web Browser, you can play it on the go and offline if you download the app onto your iOS or Android devices.
Where can I play it for free?
Don't worry, Snail Bob is currently free to download and play across all platforms on which it is available.

Games similar to Snail Bob
Though there aren't many snail games, this game falls into the Puzzle and Animal Games categories on GamePix. However, this game is part of a series and you can try Snail Bob 5, Snail Bob 7, and Snail Bob 8.
What are the best online games?
TAGS