Snack Mahjong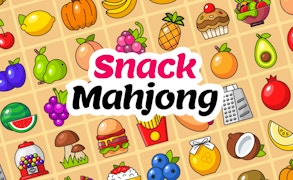 Snack Mahjong
Description
In Snack Mahjong, players are taken on an exciting and strategic journey to clear the game field of identical images. The game presents a unique blend of traditional mahjong gameplay with additional special features. Wooden boxes can be eliminated by clearing out neighboring tiles, while steel blocks can only be relocated. The ultimate challenge is to make connections between objects without any barriers in-between.
How to Play
Start by identifying identical images on the field and eliminate them. Wooden boxes can be removed by clearing nearby tiles, while steel blocks can only be moved. Player must ensure that there are no obstacles between the lines of connection for pairs. The game comes with special blocks that reposition tiles along a straight line or around the field.
Tips and Tricks
Speed and strategy are essential in Snack Mahjong. Clear wooden boxes swiftly to gain more playing area. Be mindful of steel blocks as they require smart movement for successful playthrough. Using special blocks intelligently can greatly sweep off multiple tiles and clear your board faster.
Features
Strategically-layered gameplay with unique features beyond traditional mahjong
Special blocks enabling movement of tiles for enhanced gaming experience
A perfect blend of strategy, quick thinking, and puzzle-solving skills challenge
Creative design featuring wooden and steel blocks for varied gameplay dynamics
)
What are the best online games?
Tags