SlingShot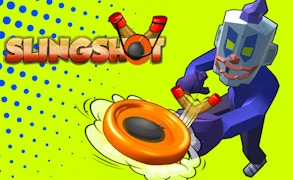 SlingShot
Get ready to be catapulted into the world of exhilarating excitement with SlingShot, a game that can only be defined as the epitome of fun games. Whether you're a casual gamer seeking some quick, adrenaline-fueled fun or a hardcore skill warrior looking for your next challenge, SlingShot has your back.
Your objective is deceptively simple: transport all the disks from one area to another. Sounds easy, right? But don't be fooled - this game is designed to test the limits of your precision and agility. The mechanics are simple to grasp yet difficult to master, making it an ideal pick among skill games.
The true magic of SlingShot reveals itself when you delve into its multiplayer mode. Compete against friends or family in a thrilling showdown that redefines 2 player games. With options for 2, 3, or even 4 players, SlingShot is the perfect game for those friendly gatherings or heated rivalries. Experience firsthand the joy of victory and the agony of defeat as you find yourself engrossed in this incredibly addictive game.
But that's not all! The inviting aesthetics and smooth animations add more depth to your gaming experience. Each disk glides across the screen effortlessly, creating a visual treat that complements the challenging gameplay.
In conclusion, whether it's for honing your skills in 1-player mode against AI or for engaging in fun multiplayer battles with friends, SlingShot is a game that caters to every type of gamer out there. It perfectly captures what makes arcade games so enjoyable - fast-paced action, captivating visuals and above all else, endless fun.
What are the best online games?