Slime Warrior Run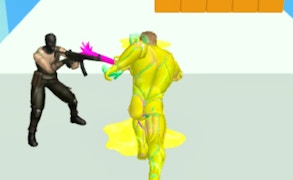 Slime Warrior Run
Step into a world where adventure and thrill coalesce in the action-packed game, Slime Warrior Run. With its heart firmly rooted in the genres of running games, battle games, sword games, gun games, and war games, it's a virtual experience that masterfully flexes your skill games muscle as you navigate through various levels.
The game pivots around a righteous hero, determined to save his city. Not just any hero, but a man who can morph into a formidable Slime Warrior, gifted with overwhelming power. As he embarks on his noble quest, he collects slimes that augment his might. A tinge of fantasy makes the narrative more gripping as the Slime man is immune to bullets and can even lift tanks!
Slime Warrior Run dauntlessly blurs the boundaries between reality and fiction. It is a high-octane ride filled with relentless action and intense battles with your primary weapon being your agility. The core gameplay revolves around skillfully dodging hurdles and vanquishing enemies.
The game sets itself apart from other conventional running and gun games by adding an extra layer of strategy where strength lies within - a slimy transformation that bestows upon you invincibility! Such elements make this one of the most compelling sword games with an unusual twist.
To summarize, Slime Warrior Run, with its unique concept, engaging gameplay, and mesmerizing graphics provides an unparalleled gaming experience. It's not just about running or battling; it's also about strategizing, about being smarter than your opponent. It's definitely worth delving into for those seeking something different in war games yet retaining beautiful echoes of classic skill games.
What are the best online games?