Slime Ball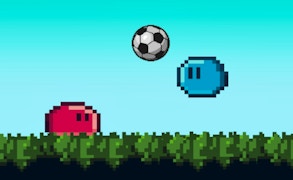 Slime Ball
Step onto the digital pitch with Slime Ball, a uniquely addictive entrant to the pantheon of football games. This engaging 2D soccer game brings a fresh twist to the realm of ball games, as you play not as a professional footballer, but as a malleable, jolly slime.
The sheer joy and exhilaration of navigating your slime around the pitch, performing dizzying moves and scoring spectacular goals is beyond compare. It's an exciting departure from traditional football games, injecting a dollop of fun into every encounter. Slime Ball brilliantly combines the tension of soccer games with the delightful craziness of pixelated design.
The game stands out from conventional sports titles with its unique take on gameplay mechanics, aesthetics, and controls. The whole experience feels like driving an incredibly swift bumper car across a vibrant, pixelated playground. The excitement only intensifies whether you're in fierce competition with AI in single-player mode or duelling against a friend in two-player battles, thus making it one of the most captivating pixel games.
The game's rich array of map options adds another layer to its appeal. These brilliantly devised arenas challenge your skills and provide a riotous backdrop to your slimy soccer struggles.
In conclusion, Slime Ball turns the world of standard football on its head, delivering an intoxicating blend of sports action and humorous fun. Its unique twist on classic soccer gameplay designates it as an absolute must-play for lovers of all things football and pixel games alike.
If you're hunting for pure fun or itching for something distinctively different in your array of soccer games, take it from this review: this is one appointment with a slime that you won't regret.
What are the best online games?