Sliding Santa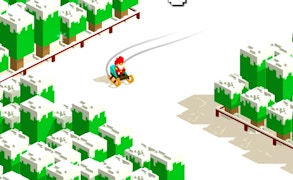 Sliding Santa
Welcome to an exhilarating review of Sliding Santa, a gem among pixel games that is guaranteed to become one of your most addictive games. Dive headfirst into this festive adventure and you'll find it's not just a Christmas game; it's a captivating, unique, and fun-filled experience all-year-round.
In Sliding Santa, you are entrusted with the cheerful task of aiding jolly old Saint Nick as he skates, drifts, and dashes through snowy lanes in a pixelated but breathtakingly beautiful pine forest. The game deftly marries the mechanics of driving games, the agility requirements of skateboard games, and the precision needed for skill games.
This is more than just a foray into pixelated pine forests, the game also has numerous characters apart from Santa to unlock. These secret characters don't simply provide variety; they completely transform your gaming world! If you're a fan of drifting games, prepare yourself for an entirely new level of drifting mechanics that will leave you on the edge of your seat.
Sliding Santa seamlessly combines all facets from various genres: be it the rush from arcade style driving, or a thrilling chase for high scores in skill-based gameplay. Its simplicity combined with its intense pace ensures that it fits snugly in your collection of addictive games.
In conclusion, if you have a soft spot for arcade-style pixel art games but crave some holiday cheer – or if you simply love getting tangled up in addictive games - then sliding Santa might very well be your next go-to game this season.
What are the best online games?