Sky Track Racing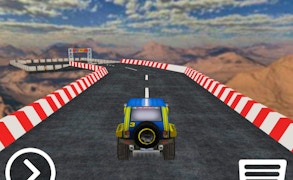 Sky Track Racing
For all you high-octane car games enthusiasts and adrenaline junkies out there, we present to you, the thrilling and vertigo-inducing Sky Track Racing. A breath-taking and exhilarating jaunt into the world of 3D sky platform games, Sky Track Racing pushes the boundaries of conventional driving games, taking you soaring into the clouds on a rollercoaster ride of pure, unadulterated excitement.
A potent fusion of car driving and stunt simulation, Sky Track Racing sees you at the helm of a sturdy Jeep car, expertly navigating your way around tracks suspended in mid-air. The primary objective? Make your way to the designated area at each level's conclusion. No easy feat when the ground beneath you is nothing but thin air! But be prepared for a wild ride that will test your utmost Skill Games prowess.
The game conjures an intoxicating cocktail of thrill and terror which merges seamlessly with precision-based challenges. The result - an engrossing gaming experience that takes offroad gaming to skyscraping heights. Whether you are a seasoned gamer looking for an ultimate test of skill or any serendipitous daredevil who stumbled upon this exciting blend of Offroad games, Sky Track Racing offers something for everyone.
This game is not just about speed but also finesse; it's about treading on a razor's edge where one wrong move could spell disaster. It provides an unforgettable journey through mesmerising sky platforms that will keep you coming back for more. It's guaranteed to be one helluva ride from start to finish!
Come join the thrills and spills on Sky Track Racing – and find out if you have what it takes to conquer the sky. Have fun!
So there you have it - Sky Track Racing, defying gravity and pushing limits in every corner of its cloud-kissed tracks. Buckle up, gamers – this one's going to be unforgettable!
What are the best online games?