Sky Rollers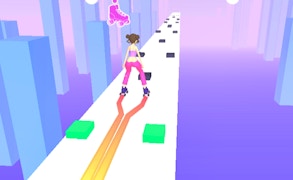 Sky Rollers
Unleash the daredevil within you with Sky Rollers, an adrenaline-pumping addition to the world of arcade skateboard games. Taking skateboarding action straight to your screens, this game will have your knuckles white, heart racing, and thumbs furiously swiping left-right to beat the odds. The game stands out not just in the arcade genre, but also as one of the most epic skill games you'll ever come across.
In Sky Rollers, you're not merely a pedestrian skateboarder; but a high-flying stunt artist with an unquenchable thirst for thrill and speed. Your mission? To demonstrate extreme agility and dexterity as you swerve, swoop and slide your way through a spiraling roller coaster of challenges and obstacles. As one of the top fun games, Sky Rollers promise hours of entertainment with an interactive gameplay that requires finesse and skill.
The standout feature of Sky Rollers is its unique controls. You're tasked with managing not just the skateboard's direction, but also your character's legs. This innovative gameplay mechanic transforms every level into a kinetic puzzle – testing your reflexes, precision and decision-making skills at every turn. Dodge those obstacles by parting your legs at precisely the right moment - it's all about timing!
Succeed in navigating through these treacherous terrains without crashing and be rewarded with a shot at the exhilarating BONUS level! The big question is - do you have enough skill to NEVER crash? With its demanding gameplay and high-stakes action, Sky Rollers isn't just another addition to a long list of skateboard games - it's a testament to true gaming skill.
So strap on your helmet, get on that roller, and dive into an addictive journey of twists and turns with Sky Rollers. Challenge yourself today – because in Sky Rollers, it's always about staying agile while having fun!
What are the best online games?