Skibidi Toilet Ball Juggling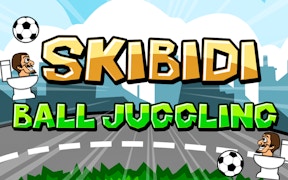 Skibidi Toilet Ball Juggling
Description
Enter the riveting world of Skibidi Toilet Ball Juggling, an arcade-style soccer game that will test your swiftness and precision. Juggle footballs with the Skibidi Toilet in this engaging sports simulation. It's all about keeping the balls airborne. You are required to tap different sides of the screen to keep not one but two balls in the air! The challenge is compelling and may lead to addiction as you strive to break your records.
How to play
This game is straightforward, requiring just two simple controls. Tap the left side of the screen if you want to kick the left soccer ball into the air, and similarly, tap the right side of your screen for juggling with right soccer ball. Your ultimate goal is to keep both balls in action for as long as possible without allowing either ball to hit the ground.
Tips and Tricks
Hone your timing skills because it's all about precision and rhythm. Start off slow and increase your speed gradually as you get better at it. Keep an eye on both sides of the screen because each ball could require your attention at any moment! Persistence is key here, so don't get disheartened if you drop a few balls along the way.
Features
Addictive Gameplay: The fun challenge of keeping both balls in play can be highly addictive.
Simple Controls: Easy-to-use touch controls make playing a breeze.
Skill-Based: Your juggling ability directly correlates with your score.
Soccer Simulation: Get a taste of soccer without stepping onto the field.
What are the best online games?