Skateboard Challenges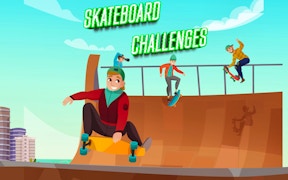 Skateboard Challenges
Description
In Skateboard Challenges, gamers are given the opportunity to prove their mettle in a series of exhilarating skateboarding tasks. The game pushes the boundaries of your agility and quick thinking with various levels each possessing its unique difficulties. Not only will you confront various terrains, but you must also overcome progressive hurdles to proceed to subsequent rounds.
How to Play
The main objective in Skateboard Challenges is to successfully execute each level's tasks. The game mechanics rely on your device's buttons or touchscreen for maneuvering your skateboard, performing tricks, and avoiding obstacles. It is crucial to maintain speed while being tactical about timing tricks to maximize points and successfully clear each stage.
Tips and Tricks
For an optimal performance in Skateboard Challenges, it's key to learn the art of timing tricks perfectly during different jumps. Maintain a good balance between speed and control when facing obstacles. And remember, practice makes perfect - learning from failures can ultimately lead you to victory.
Features
Diverse Levels: Skateboard Challenges offers numerous stages each with distinctive challenges.
Precision Control: Master your device controls for executing perfect maneuvers and tricks.
Engaging Gameplay: With progressive difficulties, the game keeps you on your toes at all times.
What are the best online games?
Tags