Silly Ways To Get Infected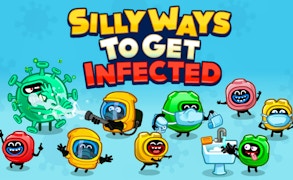 Silly Ways To Get Infected
Introducing Silly Ways To Get Infected, a riveting blend of action and puzzle in the arena of arcade genre. This game ingeniously captures the essence of 'staying safe' within the realm of fun games. Designed to be a beacon of safety education amidst chaotic times, it delivers an entertaining way to reinforce important information about the ongoing global pandemic.
The game premise revolves around your capability to identify and solve puzzles that are intricately tied to safety measures against coronavirus. It's not merely an arcade game; it's a thrilling journey into the invigorating world of skill games.
In Silly Ways To Get Infected, skillful navigation through challenging stages to avoid pandemic-related obstacles becomes your path to victory. This is not for the faint-hearted; this is for those willing to engage their full cognitive abilities while having a blast.
The key selling point here is its adherence to a theme, which is more relevant today than ever - 'Stay Home, Stay Safe'. It blends skillful gameplay with significant messages, making it stand out from the sea of other fun games on offer.
The power this game holds lies in its ability to communicate serious topics with a light-hearted approach. Never has washing hands or staying home been more engaging!
To sum it up, Silly Ways To Get Infected is an impeccable mix of adrenaline-pumping action, brain-teasing puzzles, and critical life lessons. It's much more than a way to pass time—it's an engaging tool that ensures you get your daily dose of fun and knowledge packed into one extraordinary gaming experience.
What are the best online games?
Tags