Shumujong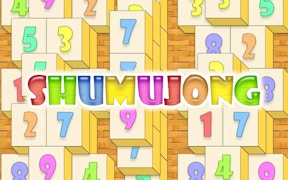 Shumujong
If you're a fan of mahjong games and have a knack for numbers, Shumujong is the perfect gaming amalgamation you've been waiting for. Brought to life by an ingenious group of developers, Shumujong marries the classic intrigue of mahjong with the intellectual stimulation of a training program. And in doing so, it effectively redefines the very essence of brain games.
In Shumujong, you're required to cast your gaze over tile images that are reminiscent of mahjong pieces. However, instead of matching identical pictures, your challenge lies in finding a pair that adds up to a specific sum displayed at the top of your screen. Hence making this delightful game partake in the realms of both number games and math games.
The allure of this game doesn't stop there. With each pair successfully matched, you earn points - but not just any points. These symbols represent your prowess in numeracy skills; proof that you're not just playing another game - but one designed for real mathematicians.
The design is sleek with its aesthetics mirroring the mathematical elegance it seeks to promote. Despite its apparent simplicity, Shumujong requires an adept combination of quick thinking and strong number skills - making it much more than a mere pastime.
If you've always had an affection for mahjong or you're just looking for a fresh new way to test your numerical abilities, step into the fascinating world of Shumujong – where classic puzzle game meets cognitive training program. Dial as many points as you can and show off your numeracy skills!
In conclusion, Shumujong is an innovative blend between traditional board games and intellectual challenges, pushing boundaries in the realm of brain-stimulating entertainment – definitely worth adding to your collection.
What are the best online games?