Shoot and goal-REMASTERED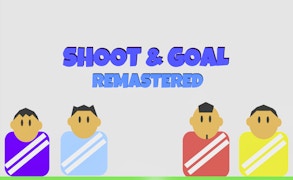 Shoot and goal-REMASTERED
Description
"Shoot and Goal-REMASTERED" is an engaging basic soccer game that tests your aim and strategic skills. This intense match plays out on a virtual field, where the goal is to outscore your opponent before the clock ticks down to zero. Each move requires careful consideration, as the distance aimed from your player determines the force of the throw. It's a fantastic fusion of sports and strategy.
How to Play
Controls for "Shoot and Goal-REMASTERED" are simple yet require strategy. On a PC, use your mouse to control the players, whereas touch screens drive gameplay on laptops or mobiles. Players selected for movement will blink. Drag them to aim your shot; remember, force correlates with distance from the character when aiming.
Tips and Tricks
To excel in this game, perfecting your aim is crucial. Remember, the further you drag away from your character, the more forceful the throw. Use this knowledge strategically - powerful shots can be advantageous or disadvantageous, based on the game scenario.
Features
Simplistic Controls: Easy-to-understand controls make it accessible to every user.
Variety of Gameplay: Tactics vary based on force and direction of shots.
Thrilling Matches: The suspense of beating the clock adds a layer of intensity.
Cross-platform Compatibility: Suitable for playing on PC or touchscreen devices.
What are the best online games?