Shaun the Sheep: Sheep Stack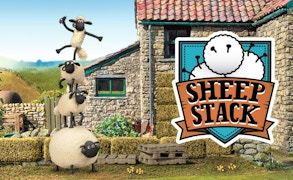 Shaun the Sheep: Sheep Stack
Welcome to a world where wool meets wonder, in the whimsical arcade adventure that is Shaun the Sheep: Sheep Stack. This delightful piece of gaming joy falls under the popular tags animal games, anime games, Games for Kids, Skill Games, and fun games. If you've been on the hunt for kids arcade games that marry fun and skill in one entertaining package - your search ends here.
In Shaun the Sheep: Sheep Stack, it's all about strategy and timing as you launch these adorable, pant-sporting sheep towards a towering stack. The goal? Reach for the stars...or at least the window. But beware! One wrong move and your pile of fluffy charges will come tumbling down in a heap of hilarity.
The gameplay is delightfully simple yet skill-testing - pull the pants (yes, pants!) of each sheep to catapult them into a soaring arch. The anticipation builds up as much as your tower of sheep, making every level an exciting challenge. It's not just an animal game, it's a test of finesse and judgement.
Gorgeously animated in an anime style, these woolly characters will melt your heart even while testing your reflexes. The game design is splendidly vibrant, making it endearing not just to kids but to anyone with a fondness for charming animation.
If you're seeking Fun Games for Kids, or simply something to tickle your fun side, Shaun the Sheep: Sheep Stack is well worth a look. It has all of the right elements - charming characters, strategic gameplay, adorable visuals, and enough challenge to keep you coming back for more pant-pulling, sheep-stacking action.
Unfold your own cartoon saga while balancing sheep on top of each other. So go ahead, take aim and let those sheeps fly in this fluffy game of gravity! Shaun the Sheep: Sheep Stack truly stands tall amongst other Skill Games.
What are the best online games?