Sharp Rings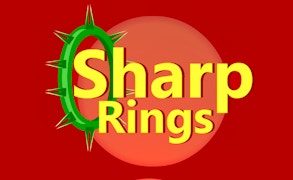 Sharp Rings
Description
Welcome to Sharp Rings, an adrenaline-pumping arcade challenge that tests your reflexes and finesse. Your mission is to manage a ring on a string, keeping it in the air without letting it touch the string itself. The game's difficulty escalates as the ring's position and motion constantly shift, pushing your timing and precision to their limits.
How to Play
To play Sharp Rings, tap on your screen whenever the ring starts descending or ascending too high. Your goal is to keep the ring in place as long as possible without letting it touch the string. Beware - the speed, direction, and height of the ring changes constantly, requiring you to adjust your strategy on the go.
Tips and Tricks
A keen eye and quick reflexes are your best friends in Sharp Rings. Keep a close watch on the ring's movements at all times. Don't panic if things start moving fast - stay calm, observe patterns in its movement, and tap accordingly. Remember, consistency beats speed here.
Features
An engrossing arcade challenge with fast-paced gameplay.
Addictive mechanics that test your reflexes and precision under pressure.
Aesthetically pleasing visuals that keep you locked into the action.
The opportunity to challenge yourself with varying difficulty levels
What are the best online games?