Shape Defense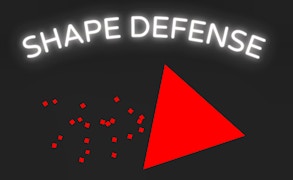 Shape Defense
Description
In Shape Defense, your mission is to guard your treasure from the onslaught of pesky shapes. This action-packed board game challenges your agility and strategy skills as you fend off the relentless waves of geometric invaders. Each shape has its own unique attributes and methods of attack, adding a dimension of unpredictability to each round. The excitement never ends in this fast-paced game.
How to Play
Navigate the screen using your mouse or keyboard arrows and use the space bar or click to shoot at incoming shapes. The key to success in Shape Defense is quick reflexes and precise aim. You can also earn coins by eliminating shapes which can be used for power-ups and defenses upgrades. Protect your gold from these relentless geometric invaders, every round gets tougher so stay vigilant!
Tips and Tricks
Always keep an eye for the larger, slower shapes - they could take more hits but give out more coins upon destruction. Balance your focus between collecting coins for upgrades and defending your treasure. Don't forget about power-ups - they can turn a losing battle around!
Features
Fast-paced arcade action gameplay with board game elements.
A variety of geometric invaders with unique behaviors.
Earn coins for defense upgrades and power-ups.
An endless mode that continuously ramps up in difficulty.
What are the best online games?
Tags