Secrets of the Castle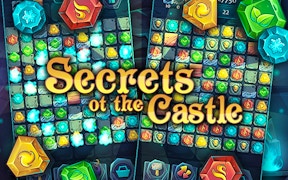 Secrets of the Castle
Dive into the enigmatic world of Secrets of the Castle, one of the most addictive match 3 games in the genre of brain games. This game isn't merely about gathering similar items together; it's an electrifying journey through a haunted castle filled with mystic elements, cryptic corners, and never-ending surprises.
Stepping into the shoes of a valiant explorer, your mission is to unlock secrets hidden within this chilling fortress. Orchestrated against a series of enchanting backdrops, this game demands you to align three crystals in a row to uncover its shrouded mysteries.
Among jewel games that stimulate your grey cells with puzzles, Secrets of the Castle stands out with its 5000 carefully crafted levels. Each level is a fresh saga, designed to challenge your logical prowess beyond your imagination.
The game gets increasingly complex with its labyrinth-like levels, unforgiving obstacles, and tantalizing rewards. But don't fret! The game's unlimited lives ensure that your journey remains immortal in this spectral world.
But Secrets of The Castle isn't merely about thought-provoking puzzles; it's also a visual and auditory treat. The eerie yet enchanting graphics are bound to pull you into its transcendent narrative further. Coupled with a hauntingly beautiful soundtrack, this game guarantees an immersive gaming experience.
The best part? You can embark on this mystical adventure for free! So, if you're seeking a captivating escape into the world of challenging brain games and jewel games alike, look no further than Secrets of The Castle.
In conclusion, Secrets of The Castle, with its unique blend of advanced puzzles and enticing graphics, is certainly one of those match 3 games that's definitely worth your time.
What are the best online games?