Secret of Amun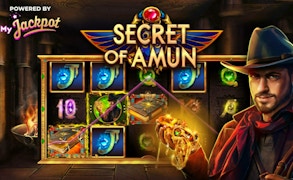 Secret of Amun
The Secret of Amun slot game invites you into the mysterious world of Ancient Egypt. This is a game that effortlessly marries the thrill of casino games, the excitement of money games, and the visually stimulating experience of slot games. In this review, we delve into the heart of this enigmatic pyramid, unearthing treasures as we navigate through its many hidden chambers.
Right off the bat, the beautifully rendered graphics awaken your senses, the shimmering gold and eternal sands transporting you to this ancient civilization. The game masterfully brings together elements from Egyptian mythology and history, allowing gamers an immersive experience matched by few other casino games.
In terms of gameplay, the Secret of Amun is as rewarding as it is engaging. The assortment of wilds, scatters, and bonus features found within these virtual walls gives one an exhilarating sense akin to those experienced by archaeologists unearthing ancient treasures. The anticipation builds up with every spin, furthered by tantalizing glimpses into potential jackpot wins.
This slot machine also shines in its balance between risk and reward. Whether you're a high roller or prefer playing it safe, you will find suitable stake levels ensuring everyone can partake in this experience. This inclusivity extends to all kinds of gamers looking for money games.
The extraordinary sound effects add another layer to this game's charm. The eerie echoes from these time-worn corridors coupled with suspense-filled Egyptian music make every spin a nerve-wracking adventure.
In conclusion, if you're after a thrilling journey into a world filled with mystery and riches, then look no further than the Secret of Amun. It's not just a slot machine game; it's a journey into an ancient world hidden beneath the sands of time. Once you've started, you may find it hard to tear yourself away from this treasure trove of excitement.
What are the best online games?