Scopa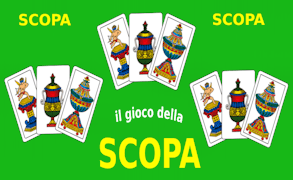 Scopa
Description
Enter the engaging world of Scopa, a renowned Italian card game played with a unique 40-card deck. Experience a taste of Italy as you sit at tables for two or four players, meticulously planning to outwit your opponents. Deep in strategy and tactics, the core gameplay involves capturing cards from a central pool to score points based on various combinations.
How to Play
The controls are simple and intuitive. Use your mouse or touch screen to select and place your cards. The goal is to collect cards that sum to the value of one in hand. Remember, face cards are worth different values. Be strategic in your play and aim to empty your hand before opponents, called "Scopare" or "sweeping".
Tips and Tricks
To master Scopa, you must carefully monitor your opponent's actions. Anticipate their moves and block them by making smart card choices. Always aim for a "Scopa", clearing the table with one move, since this gives you bonus points!
Features
Vibrant visuals capturing authentic Italian flair
A unique 40-card deck, providing fresh gameplay dynamics compared to traditional card games
Mind-stimulating strategy elements that keep players engaged for hours on end
Easily accessible multi-player option: play with friends or random players around the globe.
What are the best online games?