Save the Lady 2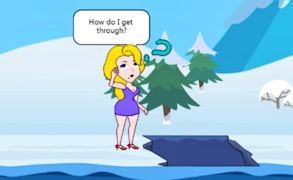 Save the Lady 2
Immerse yourself into the captivating world of Save the Lady 2, a game that sets an innovative benchmark for brain games, clicker games, and far from least, games for girls. This sequel packs a punch with an intriguing twist - this time, your nemesis is an alien! Escape games don't come much more thrilling than this.
The core essence of the game remains delightfully similar to its predecessor, as it still harnesses the power of the quiz play mode. However, it now comes with an enhanced sense of urgency and suspense. The stakes are higher than ever; our beloved heroine is pitted against a nefarious alien villain! The safety of our cute girl hangs in balance - it's up to you to ensure she doesn't fall into the clutches of this cosmic monster.
The driving force behind Save the Lady 2's stellar gameplay lies in its ability to challenge your mental agility through its innovative brain game mechanisms while simultaneously satisfying those finger-itching needs synonymous with the best clicker games. Dexterity and mental agility must go hand in hand if you're to outwit this ruthless villain.
Save the Lady 2, unlike many pejorative stereotypes tied with games for girls, empowers players by placing them in control of a strong female character who needs only their wit, not their sympathy. This brilliantly crafted escape game doesn't just entertain; it challenges gender norms by putting girls at center stage, saving themselves from peril.
In summary, Save the Lady 2 elevates itself above ordinary escape games by harmoniously blending elements from different genres. From stimulating brain activities to addictive clicker mechanisms and strong female representation, this game is sure to quench your thirst for thrilling gaming experiences.
What are the best online games?