Save the Kitten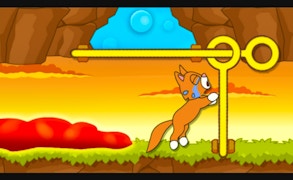 Save the Kitten
Get set for a thrilling feline adventure in the world of Save the Kitten, a standout title in the arcade genre. Optimized for all you animal games enthusiasts out there, it perfectly blends the fun elements of both cat games and Skill Games. Packed with action and a satisfying difficulty curve, Save the Kitten is guaranteed to keep even the most ardent gamer hooked.
The game's premise is as intriguing as it is engaging. The notorious angry cat Tom has trapped helpless kittens in his daunting tower, and it's your responsibility to rescue them! With your quick reflexes and sharp wit, dodge various obstacles, utilize a trampoline to fend off enemies, and guide these adorable furballs back to their mommy kitty's basket.
Save the Kitten doesn't just rely on its cute characters and vibrant graphics to lure players in – it also boasts solid gameplay mechanics. This is not just your run-of-the-mill cat game. Its unique blend of arcade action with strategic planning challenge your skills on multiple fronts. The heart-racing chases, coupled with clever level designs that demand strategic thinking, raise the stakes making every kitten saved feels like a real victory.
In sum, whether you're an avid fan of stimulating Skill Games, an admirer of charming animal games, or you simply can't resist an enthralling arcade experience centered around cute kittens – Save the Kitten should be your next gaming obsession. These kittens need your help – who will save them if not you?
What are the best online games?