Save The Earth With Slaps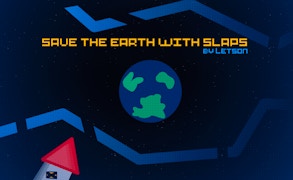 Save The Earth With Slaps
Description
In Save The Earth With Slaps, you're the last line of defense against an onslaught of missiles headed for earth. Using your quick reflexes and accurate targeting, you must slap these projectiles away to keep your planet safe. As you progress, the intensity and speed of the missiles will increase, challenging your skills at every turn.
How to Play
This game is straightforward yet thrilling - simply use your mouse or finger (for touch devices) to slap away incoming missiles. The positioning and timing of your slaps are key to achieving maximum scores. As the game advances, so does the speed and number of projectiles, demanding quick reflexes and precision.
Tips and Tricks
Consistent practice is key to mastering this game. Prioritize accuracy over speed, as missed slaps can lead to disastrous consequences. Try predicting the missile's path for better targeting and be ready for sudden changes in missile formations.
Features
Addictive gameplay: Simple yet compelling mechanics that will have you coming back for more.
Increasing difficulty: The challenge grows as you advance, testing your reflexes and dexterity.
Sleek design: A clean, modern aesthetic that makes gameplay visually pleasing.
Multitouch support: The game can be played on both mouse-operated devices or touchscreen devices.
What are the best online games?