Save My Pumpkin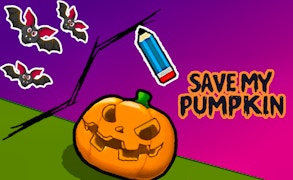 Save My Pumpkin
Immerse yourself in the eerie, moonlit world of Save My Pumpkin, a delightful addition to the genre of puzzle games. Out from the shadows of tried-and-tested gaming tropes, this title presents a unique blend of brain games, Halloween-themed aesthetics and captivating drawing games mechanics.
In Save My Pumpkin, players are thrust into a nocturnal wonderland where they must employ their drawing skills to save an adorable, and dare I say spooky, pumpkin. The gameplay is not just about putting pencil to paper - it's about strategy, speed, and an artistic flair that spells the difference between celebrating Halloween or mourning a squashed pumpkin.
If you thought this was just another run-of-the-mill drawing game, think again! As soon as the clock starts ticking down, your adrenaline will rise with each passing second. You'll find yourself hastily sketching barriers to secure your troublesome gourd, straining every sinew of your brain in this innovative take on brain games.
Aesthetically speaking, Save My Pumpkin is no slouch either. With its gorgeous hand-drawn visuals draped against a Halloween night backdrop - it's quite simply a treat for the eyes. The beautifully crafted scenery sets an atmospheric stage for this thrilling rescue mission. And trust me - there's nothing quite like saving your own hand-painted pumpkin from impending doom under the eerie glow of the Halloween moonlight!
In conclusion, Save My Pumpkin makes its mark in the world of puzzle games by incorporating elements of speed-drawing into its core mechanics. It stretches your cognitive abilities while keeping you immersed in its festive world. Whether you're a fan of brain games or drawing games, Save My Pumpkin will surely carve a grin on your face this Halloween season.
What are the best online games?