Sausage Run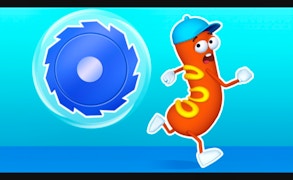 Sausage Run
Taking the world of action games by storm, Sausage Run plunges you into an unconventional realm of intrepid running games. This adrenaline-pumped escapade captivates player's hearts, not only as a frivolous enjoyment but also as a captivating survival game.
In this exhilarating journey, you are entrusted with guiding a zany red sausage to victory. The challenge doesn't merely end there. In this dramatic contest, you are pitched against other formidable sausages hell-bent on securing the coveted first spot. The electrifying premise of this game is accentuated by its competitive elements which promise an engaging gaming experience for action lovers.
Sausage Run has mastered the true essence of fun games, curating an environment brimming with adventure and excitement. The gameplay's simplicity, coupled with its high-octane pace, proves to be a magnetic concoction that keeps players hooked for hours on end.
The survival aspect is intricately woven into the very fabric of the game. It will test your strategy skills, forcing you to maneuver that brazen little sausage through arduous paths and past relentless competitors. Remember, only the fastest survive in this sizzling battle!
Sausage Run, with its riveting gameplay, hilarious premise and engrossing survival aspects, is sure to rise in ranks among both casual gamers seeking a fun distraction and devoted action gamers craving thrilling encounters. Don't let this juicy treat of a game pass you by; get ready to help your red sausage run and etch its name in the annals of gaming history!
In conclusion, Sausage Run is an addictive blend of fun and strategy that effortlessly stands out among running games and survival games alike; it's a must-try title within action games.
What are the best online games?