Santa's Secret Gift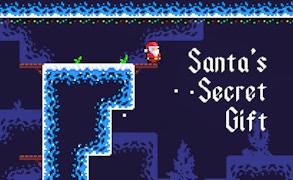 Santa's Secret Gift
Description
In Santa's Secret Gift, you step into the shoes of Santa Claus, armed with a magical gift box. This isn't your average gift box - it holds the power to teleport Santa to wherever it lands. Add a dash of Christmas magic and a sprinkle of retro arcade charm and you've got an addictive pixel game that is sure to keep you engaged.
How to play
Moving around is as simple as using the arrow keys. When the time's right, deploy your magical gift box by pressing the Z key. The real magic happens when Santa teleports to the landed gift box. Remember to use the down arrow key when you need to make your way through doors. Mobile users aren't left out either - there's full mobile control support.
Tips and Tricks
Accuracy with your teleporting gift box is key in climbing up in this game. Perfect your throw accuracy and teleportation timings for maximum progress. Remember, clever use of pauses can give you an edge in navigating tricky levels.
Features
Pixellated Artwork: For all retro arcade game aficionados, nostalgia never looked better!
Addictive Gameplay: Simple yet captivating game mechanics ensuring endless replay value.
Holiday Theme: Immerse yourself in Christmas cheer throughout gameplay.
Simple controls: Easy to learn controls that are perfect for gamers of all ages.
Mobile Support: Enjoy gameplay on-the-go with mobile support features.
What are the best online games?