Santa Snake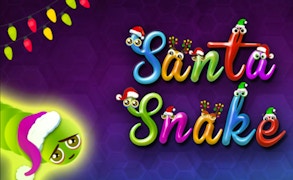 Santa Snake
Slide into the world of Santa Snake, a novel take on the classic .io genre, brilliantly fusing elements of snake games and worm games with a delightful yuletide twist.
In this immersive online multiplayer, players get to revel in Christmas joy while outmaneuvering their rivals! With its festive overlay, Santa Snake revolutionizes traditional snake games, adding that special touch of Christmas magic to every game session.
Playing Santa Snake is a thrilling experience akin to racing on a snowy Christmas night. There's an intoxicating mix of excitement and danger in every maneuver. The singular rule of the game - 'Eat others to grow longer and avoid colliding with other snakes' - keeps the game-play strategically simple yet dynamically complex.
The high-stakes competition gets your adrenaline pumping as you strive to outeat your festive foes and become the largest snake in the arena. Amidst all this thrilling action, don't forget to deck your slithering avatar in your preferred Christmas skin, bringing an additional layer of customization and personalization into play.
While Santa Snake may appear as just another one of those Christmas games, it's more than that. The sleek design, satisfying game-play and friendly competition have players coming back for more far beyond the holiday season.
In conclusion, if you're a fan of .io genre who enjoys thrillingly competitive snake games or worm games with an added dash of yuletide cheer, then Santa Snake is indeed a perfect match for you. It's not just a game; it's a ho-ho-whole lot of fun!
What are the best online games?