Santa's Delivery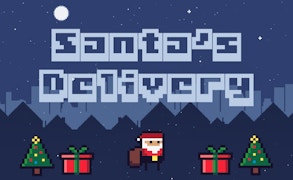 Santa's Delivery
Description
In Santa's Delivery, you're entrusted with the critical task of helping Santa Claus distribute presents. This festive, action-packed pixel game sets you on a challenge to strategically move Santa to place gifts under numerous Christmas trees and direct him towards the chimney for the next level. With each round offering a unique puzzle, it promises plenty of festive fun!
How to play
This game operates on simple controls, using arrow keys or tap directions to move Santa around the grid. The aim is to navigate Santa in such a way that he places presents under every Christmas tree before reaching the chimney. Each completed level advances you to a more challenging puzzle map.
Tips and Tricks
Plan your moves carefully! Starting from the wrong direction could make the level impossible to complete. Look for an optimal path that covers all trees and ends at the chimney. Remember, efficiency is key: the fewer moves, the higher your score!
Features
Pixel art graphics bringing a nostalgic gaming experience.
A variety of challenging levels with unique puzzles.
Festive theme: perfect for spreading Christmas cheer.
Progressive gameplay: each successfully completed challenge leads you to a more difficult level.
What are the best online games?