Santa Racer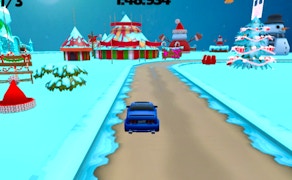 Santa Racer
Get ready to ignite your holiday spirit with a high-octane rush in Santa Racer, one of the most thrilling driving games of the season. Immerse yourself into a winter wonderland with an exciting twist of speed, adrenaline, and festive fun.
Whether you're into car games or love a good showdown in 2 player games, Santa Racer proves to be the perfect blend of both. Experience the joy of driving on challenging courses, but this time, it's not just any car; it's Santa's sleigh packed with action and excitement.
The game's unique offering is its flexible nature. Do you fancy a head-to-head clash with your friend? Or do you prefer to test your mettle against a computer-controlled challenger? Regardless of your preference, Santa Racer got you covered. The real goal here is not just to compete; it's to be the fastest racer on the track and claim victory.
Santa Racer stands out among other christmas games, providing an exhilarating ride through frosty terrains and snowy landscapes. However, don't let the jingle bells fool you because this game can be as ruthless as any hardcore offroad games. Navigating through winding trails and icy slopes requires skill, precision, and guts; make sure you don't lose control!
In summary, Santa Racer ticks all the boxes for a sensational holiday racer. It brilliantly combines elements from different genres to create an enthralling experience that will keep you engaged throughout Christmas and beyond. So strap up, rev those engines (or reindeers?), and prepare for a Yuletide race unlike any other!
What are the best online games?