Sand and Water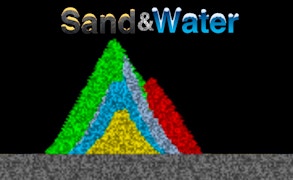 Sand and Water
Description
In the diverting puzzle game Sand and Water, players manipulate a pixelated environment where elements constantly fall from the top. Showcasing a flawless Pixel Engine implementation, this game keeps you engaged as you rush to collect and manage streams of sand and water. Perfect for when you have a few minutes to spare, this addictive game combines urgency with strategic planning.
How to play
To play Sand and Water, simply use your cursor to control all actions in the game. Collect falling elements, such as sand or water. The goal is to collect as many elements as possible within a certain time limit. You progress in the game by continuously beating your previous scores, adding an element of competition and urgency.
Tips and Tricks
In order to maximize your score in Sand and Water, try to anticipate where the elements will land. Keep track of falling patterns and adapt your strategy accordingly. Quick reflexes will serve you well, but equally important is clever strategizing on how best to collect each falling element.
Features
Pixel Engine: Experience a pixel art environment in full flow.
Quick Gameplay: Ideal for short gaming sessions.
Puzzle Elements: Enhance your problem-solving skills with strategic gameplay.
Evolving Challenge: The intensity builds as you seek to surpass your highest score.
What are the best online games?