Safe Joe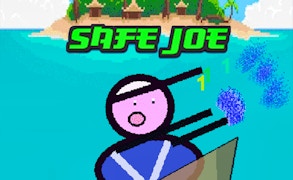 Safe Joe
Description
In Safe Joe, you are tasked with keeping the adorable character, Joe, safe from an onslaught of danger. This game combines fast-paced action with a strategic element from the need to purchase power-ups. Each hit successfully defended rewards you points, accumulates to a stash that can be used for purchasing incredible power-ups. The dynamics of the game promises an exhilarating gaming experience!
How to play
The controls in Safe Joe are simple and intuitive - perfect for both beginners and seasoned gamers. The main objective is to keep hitting the incoming dangers to protect Joe. The more hits you make, the more points you earn! Spend your points wisely to buy power-ups that will aid your gameplay and help keep Joe safe for longer.
Tips and Tricks
Strategic spending is key in Safe Joe. While it may be tempting to spend your hard-earned points on immediate threats, it is often more beneficial to save towards power-ups that provide lasting protection or increase gaming advantage. Also, don't forget to keep an eye out for special reward opportunities!
Features
Fast-paced action gameplay
User-friendly controls suitable for all ages
A variety of power-ups available for purchase
Strategic elements in managing points and buying power-ups
Cute and engaging character design - meet Joe!
What are the best online games?