Russian Trucks Jigsaw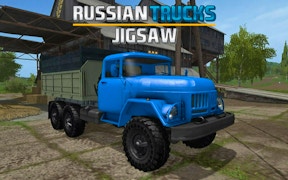 Russian Trucks Jigsaw
If you're on a hunt for the most engaging car games and truck games perfect for puzzle enthusiasts of all ages, then look no further than the addictive world of Russian Trucks Jigsaw! This free online game is a delightful fusion of the puzzle and jigsaw genres, sure to captivate not just kids but even those who are young at heart.
Offering an array of 12 unique images of bulky yet beautiful Russian trucks, this game is not only easy on the eyes but also works as a fantastic brain booster. Gone are the days when Games for Kids were mere child's play. With three modes - easy with 25 pieces, medium with 49 pieces, and hard with 100 pieces - Russian Truck Jigsaw delivers on its promise of being an effective tool in exercising the mind while providing endless hours of entertainment.
A break from your typical run-of-the-mill truck games, the detailed images in Russian Trucks Jigsaw provide a different kind of challenge that test your focus and attention to detail. It's more than just moving pieces around; it's about training your mind to work smarter with each level.
The beauty of this game is its simplicity overlaying a rewarding challenge. You start off with the basic 25-piece puzzle, an undoubtedly fun way to introduce Brain Games to younger players. As you gain confidence in maneuvering through these tricky vehicles, you can level up to more intricate puzzles - truly putting your problem-solving skills into a rigorous workout.
Russian Trucks Jigsaw stands out in the realm of car games and truck games by providing intellectual stimulation disguised in captivating jigsaw puzzles. With its range of difficulty levels suiting beginner to advanced players, it offers endless replayability value that keeps you coming back for more epic puzzle-solving sessions!
In conclusion, if you're seeking an exciting yet beneficial game that combines trucks with jigsaws and puzzling challenges - Russian Trucks Jigsaw is undoubtedly one that should be on top of your list!
What are the best online games?