Run & Jump Jumbo Runner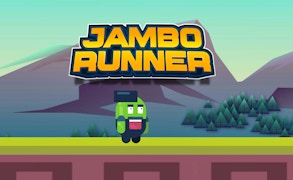 Run & Jump Jumbo Runner
Description
Embark on an exhilarating adventure in Run & Jump Jumbo Runner, an arcade game that's bound to get your adrenaline pumping! Navigate through challenging terrains as you fly and run against gravity. With the tap of a screen, control Jumbo while dodging obstacles and earning points. Your speed increases as you progress, adding a thrilling spin to this exciting game!
How to play
The controls are incredibly straightforward in Run & Jump Jumbo Runner. Use a simple tap or click mechanic to guide Jumbo's jumps and flights. Precision and timing are key here - you'll need to skillfully dodge obstacles while collecting points down the route. As your score increases, so does your speed, meaning that each stage gets progressively more challenging!
Tips and Tricks
Success in Run & Jump Jumbo Runner is all about mastering the art of timing! Do not underestimate the importance of precision in dodging obstacles. Run when it's safe but be ready to take flight when obstacles approach. Keep practicing and you'll find yourself soaring through each level with ease!
Features
Simple Controls: Easy to understand tap/click mechanics.
Addictive Gameplay: Intense running and flying action.
Progressive Difficulty: Speed increases with score for added challenge.
Vibrant Graphics: Enthralling visuals for an immersive gaming experience.
What are the best online games?