Royal Helix Jump 3D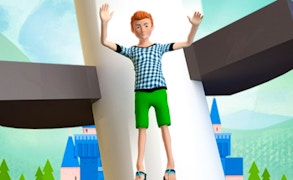 Royal Helix Jump 3D
Take a wild ride into the multi-colored, twisting universe of Royal Helix Jump 3D, an action-packed arcade game that's taking off in the realm of hyper casual games. As addictive as it is vibrant, this game provides a thrilling, skill-focused experience that keeps gamers coming back for more.
Dive into the heart of the action by taking control of a vividly green T-shirt clad character who dares to take on a towering helix filled with endless risks and rewards. Each level in the game teases your reflexes, demanding perfect timing as you navigate your character to jump and fall onto the rotating bricks of an exhilaratingly unpredictable helix tower.
But Royal Helix Jump 3D doesn't just stop at being another amongst skill games. It takes things a step further by introducing two distinct game modes. In Level mode, gamers' skills are put to the test as they aim to drop down to a certain weight-marked brick within the chaotic spiralling tower. Achieving this goal moves you onto tougher challenges in the next level.
The other mode however, is Challenge Mode; it shrugs off rules and lets players dive headfirst into unadulterated fun! Here, you're free to let loose and strive for personal best records rather than fixed goals. This freedom gives Royal Helix Jump 3D its exceptional replay value among addictive games.
In conclusion, whether you're a hyper casual gamer seeking some intense gameplay or an ardent arcade fan looking for your next favorite skill game, Royal Helix Jump 3D will satiate your gaming cravings with its lively graphics and adrenaline-pumping mechanics.
What are the best online games?