Rope Bawling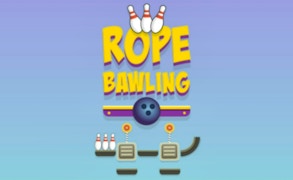 Rope Bawling
If you're a fan of brain games, ball games, and even bowling games, then it's time to immerse yourself in the mind-boggling universe of Rope Bawling. This innovative puzzle game is an enthralling blend of physics and strategy, providing a unique spin on the traditional bowling alley experience.
The main objective in Rope Bawling is devilishly simple but the journey to achieving it is far from easy: you need to cut the rope to set bowling balls free towards unsuspecting skittles. It might sound like child's play, but since when has child's play been so beguilingly complex? Your path will be riddled with laces concealed in boxes and a myriad of moving platforms providing both impetus and obstacles.
Each level is uniquely crafted with an intricate lacework you need to meticulously unravel. The theme here is to strike a balance between precision and timing while dealing with motion, gravity, and the cruelly unpredictable nature of moving platforms. There's a captivating sense of achievement when your well-planned coup sends the bowling balls smashing into skittles, offering a satisfying resolution for ardent puzzle fans.
The magic of this game lies within its ability to test your mental agility by blurring boundaries between conventional bowling games and sophisticated brain games. Rope Bawling challenges your ability not just in solving puzzles, but also in mastering spatial reasoning, timing, and strategic thinking - making it much more than just another average ball game.
In conclusion, Rope Bawling emerges as an enticing blend of intellectually stimulating puzzles with elements from popular ball-based sports—namely bowling. It's cleverly conceived challenges merit hours of engaging gameplay that any puzzle enthusiast would appreciate. Lend your mind to this intriguing enigma—it's time for some exciting brain-bowling fusion!
What are the best online games?