Roof Rails Online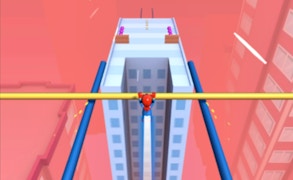 Roof Rails Online
Welcome to the adrenaline-pumping arena of Roof Rails Online, a game that blurs the line between Skill Games and Hyper Casual Games. Whether you're an avid arcade enthusiast or a casual gamer seeking some easy fun, this game offers a unique blend of exhilaration and challenge that will keep you hooked for hours.
Imagine the thrill of parkour, but amplified by a factor of ten. That's exactly what you get in Roof Rails Online - an arcade masterpiece where every split-second decision could mean victory or doom. Staying on top, both literally and figuratively, is no easy task in this addictive journey through snow-covered rooftops. The rule is simple: stay within the confines of the rooftop. But as we all know, simple doesn't always mean easy.
One essential key to survival is your trusty wooden pole, which serves not only as your balance but also as your means to collect blocks and increase its length. Yes, that's right - this isn't merely about nimble footwork; it's also about strategic planning and precision.
To add to the excitement, there's also a plethora of gems up for grabs. So even in the throes of danger, remember to be eagle-eyed and grab those valuable gems as you swoosh past them. These gems are more than just pretty trinkets- they represent an accumulation of your gaming prowess.
In conclusion, if you're in search for something that challenges your skills while remaining incredibly fun – then Roof Rails Online should undoubtedly be on your radar! This engaging combination amongst Addictive Games, hyper-casual and skill games will guarantee hours upon hours of roof-topping joy!
What are the best online games?