Roller Ball 6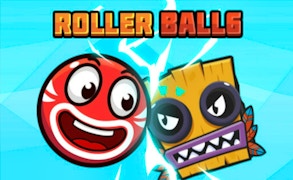 Roller Ball 6
Welcome fellow gamers to the nerve-wracking world of Roller Ball 6, an enthralling sequel in the acclaimed ball games adventure series that will certainly keep your fingers glued to the controls! If you've ever reveled in Big Ball 3, Bounce Ball Love, or Roller Ball 4, then brace yourselves for another dosage of ball bouncing madness skillfully mixed with a great deal of strategy.
In this latest version, our hero – the vivacious Red bounce ball, is on a daring mission. The monstrous Evil minions are conspiring to squeeze our beloved planet into a drab square shape. As a player, your task is to help Red bounce ball escape through a perilous factory, confront aggressive enemies and dodge lethal laser beams all while in a bid to save our world from becoming square.
Packaged as one of the best in Skill Games and escape games, Roller Ball 6 combines elements from its predecessors but with an added touch of complexity. Use the arrow keys to steer Red bounce ball to its goal while knocking off all stars on its path. Beware though; every corner hides danger that can end your valiant efforts in defeat!
The game also challenges players to roll the ball, jump and bounce through a mechanical wasteland, collecting stars and defeating evil squares. Believe it not, those seemingly harmless moving lasers are lethal. Perfecting your rolling precision is key!
The simplistic art style and minimalist visuals may deceive you into thinking Roller Ball 6 is easy. But be warned! This Balls Hero & Ball Bouncer game requires high IQ and untamed gaming skills to conquer all 100 levels.
To conclude, Roller Ball 6 isn't just another arcade game; it's an epic journey filled with tension and thrill that tests your problem-solving skills and reflexes while providing hours of gaming joy.
What are the best online games?