Roller Ball 5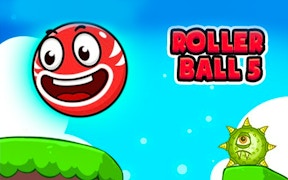 Roller Ball 5
Prepare for an electrifying journey as we delve into the exuberantly colourful world of Roller Ball 5, the latest in the popular series of ball games that has enthralled gamers with its charming aesthetics and devilishly tricky gameplay. This is not just a game—it's a thrilling ride that demands skill, precision, and creativity.
Tagged under ball games, Skill Games, and escape games, Roller Ball 5 takes you on an exhilarating rollercoaster trip through labyrinthine landscapes full of formidable obstacles and tantalizing treasures. Your mission is simple: to control a zesty red ball as it rolls and bounces through a treacherous terrain filled with pernicious pitfalls. And let me tell you, it's not as easy as it sounds!
The beauty of this game lies in its simplicity. The gameplay mechanic is straightforward — roll the ball to dodge dastardly traps while simultaneously attempting to gather all dazzling yellow stars. Though it is majestically minimalistic, Roller Ball 5's design elegantly intertwines skill with strategy! Each level ramps up the challenge, ensuring that no two levels feel too similar.
The essence of Roller Ball 5 is encapsulated in its tag - this bouncing ball game truly tests your prowess in maneuvering through tricky situations with adroitness. Success depends entirely on your skill at navigating these deceptively difficult scenarios.
In conclusion, if you have a penchant for skill-based, escape-themed ball games packed with action and adventure, Roller Ball 5: Jump Ball Adventure should sit proudly atop your must-play list! This version isn't just another sequel; it's a testament to how immersive an arcade game can be when exceptional game design meets high-stakes escapade.
What are the best online games?