ROD Multiplayer Car Driving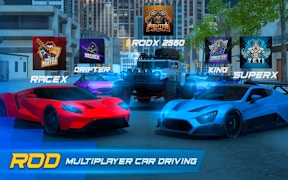 ROD Multiplayer Car Driving
In the exhilarating world of online multiplayer car racing simulation games, one title stands tall - ROD Multiplayer Car Driving 2022. A playground for petrolheads, it combines the best of car games, drifting games, and driving games to deliver an unmatched, adrenaline-fueled experience.
This game is a thrilling blend of roaring engines and screeching tires, bringing together players from all corners of the globe. Whether you're a fan of drifting or prefer traditional street races, ROD defines the joy of multiplayer vehicle-based fun. Brimming with challenging mega ramps and rocket shows, this offering sets a new standard for parking games, pushing the boundaries of what's possible in an online multiplayer environment.
The thrill doesn't stop at just racing; the game offers an incredibly immersive simulator gaming experience. The expansive 3D city provides players with an exciting playground where they can perfect their drifting skills and feel like a real-world speed racer. With over 500,000 active players battling it out on digital tarmac, ROD is a testament to how far online racing simulations have come.
The PvP setup is so gripping that it leaves you wanting more after every race. Each race can host up to 10 simultaneous drivers allowing fierce competition and endless excitement. Prepare yourself for heart-stopping last-second overtakes and intense high-speed collisions that will leave you on the edge of your seat.
To wrap things up, ROD Multiplayer Car Driving 2022 isn't just a game; it's a love letter to all fans of car, driving, drifting and parking simulator games. It offers an immersive racing experience that is unparalleled in its intensity and enjoyment. Whether you are an experienced racer or a rookie driver, this game has something to thrill and engage you.
What are the best online games?