Rocket Stunt Cars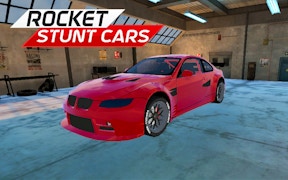 Rocket Stunt Cars
Prepare to strap in and hit the virtual tarmac with Rocket Stunt Cars, a tour-de-force in the realm of car games that will have your adrenaline pumping and heart thumping from start to finish. Brimming with thrilling kicks, tight corners and mind-blowing jumps, it propels you into an immersive desert landscape that's ripe for exploration.
Illuminating the exciting world of drifting games, Rocket Stunt Cars offers you an ample terrain for executing wild drifts and daring stunts. Weather it's the wide-open stunt map offering endless opportunities for creativity or the city packed with traffic, this game demands finesse on the wheel and a nerve of steel. It's like a ballet on wheels, but at 150 mph.
For those who adore driving games, there's no better way to feel your heart race than weaving through intense city and highway traffic scenarios at high speeds. The beautifully designed urban environments and bustling highways will have you totally immersed in this highly engaging driver's world.
Rocket Stunt Cars distinguishes itself from other simulator games by its variety of camera modes. Explore driving from behind the wheel in first-person cockpit view or switch to third-person for a broader perspective on your surroundings - it's your highway, your rules!
In conclusion, Rocket Stunt Cars brings adventure, fun modes and high-speed thrills to new heights among car games! With its vast playgrounds and unparalleled driving dynamics, it promises hours upon hours of tire-smoking fun. So buckle up gamers, because a fresh dose of high-octane fun awaits you in Rocket Stunt Cars!
What are the best online games?