Rocket Punch 2 Online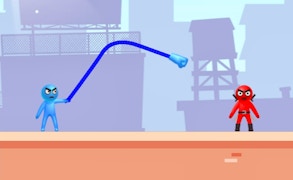 Rocket Punch 2 Online
If you're a fan of boxing games, stickman games, or simply love taking on adventurous skill games, prepare to meet your perfect match in the form of Rocket Punch 2 Online. This extraordinary game breathes life into your average stickman, transforming him into a spectacular hero with the power to rid the world of enemies in the most exciting way possible — with rocket fists!
In this innovative game, you've got more than just a punch; you have a rocket punch! The intuitive controls allow players to artfully draw the trajectory of their rocket fist, ensuring every hit is as satisfying as it is destructive. Levels are littered with enemies just waiting for that knockout blow, making each victory taste that much sweeter.
But what sets Rocket Punch 2 Online apart from other boxing games and stickman games? It's all about strategy rather than brute force. Every level presents new challenges and puzzles, beckoning players to look beyond their immediate surroundings and utilize available weapons to double — or even triple — their enemy count in one fell swoop. You can break walls, dig into the ground, detonate bombs - the possibilities are endless!
This game is not just mindless fun; it's an incredible workout for your brain. How can one not be enticed by this fusion of action, adventure, and intellectual stimulation? Moreover, kiz10.com exclusively offers this gem totally free of charge! If there's one thing Rocket Punch 2 Online promises, it's that you'll land like never before!
Rocket Punch 2 Online revolutionizes the realm of skill games. It offers an amazing amalgamation of strategy and action that sets it leagues apart from typical stickman games. It will keep both your reflexes - and your brain - on their toes. Are you up for the challenge?
What are the best online games?