Rocket Bikes Highway Race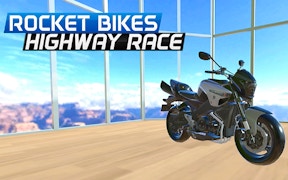 Rocket Bikes Highway Race
Welcome to the exhilarating world of Rocket Bikes Highway Race, a fast-paced thrill ride that sits proudly among the top dirt bike games and motorcycle games. Combining elements from both skill games and driving games, this masterpiece gives you an adrenaline rush like no other.
The premise of the game is simple - a super highway race featuring diverse motorbikes, each bringing unique dynamics to the race. With categories such as speed bike, cross moto, and supersport, the diversity is vast enough to keep you on your toes and your throttle hand tingling.
Rocket Bikes Highway Race offers two enticing game modes - One Way Traffic and Two Way Traffic. The former tests your handling skills as you maneuver through vehicles moving in your direction, while the latter is all about dodging incoming traffic; truly an exciting test of your bike driving skills.
The game offers three varied maps for you to conquer - Forest map, Desert Map, and Winter Map. Each setting presents its unique challenges and requires a distinct approach to master. Traverse through dense forests or race down sandy dunes. Feel your tires crunch against the fresh winter snow or blaze across scorching desert sands.
The high-speed thrills make Rocket Bikes Highway Race an absolute must-play in the genre of dirt bike games. It's time to saddle up, rev your engines, and let this super-cool traffic rider game take you on an unforgettable highway race.
So gear up gamers! Embrace high-octane action blended seamlessly with strategic skill-based gameplay. Whether it's about weaving through traffic or enjoying a smooth sail on an empty highway - Rocket Bikes Highway Race has got you covered!
In conclusion, Rocket Bikes Highway Race stands as a towering beacon in motorcycle games with its exciting gameplay mechanics, breathtaking visuals, unique maps, and varied motorbike categories. This game makes every second on the track count – strap in for a ride that will get your pulse racing!
What are the best online games?