Road Madness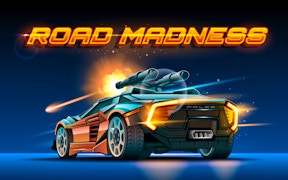 Road Madness
Description
In Road Madness, thrilling high-speed pursuits combine with adrenaline-pumping shooting action. Speed down the highway behind the wheel of heavily armed battle cars, while trying to outmaneuver and outgun your enemies. The longer you survive, the more powerful vehicles and weapons you unlock. Each boss defeated brings unique power-ups and impressive special effects that make every race an unforgettable experience.
How to Play
The controls in Road Madness are straightforward yet engaging. Navigate your car using the arrow keys while using space bar for shooting at your rivals. The key is to balance speed and aim meticulously. As you progress, you'll unlock more powerful cars and devastating weaponry that will greatly aid your survival in later races.
Tips and Tricks
Avoid getting too close to enemy vehicles as they can cause significant damage. Instead, use long-range attacks where possible and always be on the move to evade incoming fire. Remember, each boss defeated provides precious power-ups that can turn the tide of a race.
Features
Action-packed combination of racing and shooting gameplay.
Wide array of upgradable cars and weapons.
Bosses with unique abilities offering new challenges.
Achievements and power-ups that enhance replay value.
Epic special effects that create an immersive gaming experience.
What are the best online games?