Rise Up Hero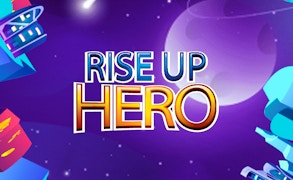 Rise Up Hero
Description
In Rise Up Hero, you are thrown into a world where your skills and reflexes are tested to the limit. Your mission is to navigate through perilous obstacles by flying, challenging the force of gravity. The game is a delightful mix of quick thinking, precision, and agility. Each level presents unique challenges that will keep you entertained and engaged for hours on end.
How to play
The controls of Rise Up Hero are simple yet require precise timing. Use your mouse or touchpad to control the flight path of your character. Your goal is to fly as high as possible while avoiding obstacles. Keep in mind that each level has different dangers, so adapt quickly and stay one step ahead!
Tips and Tricks
Mastery in Rise Up Hero lies in anticipation and swift reflexes. Always look ahead for upcoming obstacles and plan your moves accordingly. Speed is crucial but remember not to be reckless — precision-guided movement will take you further.
Features
Packed with numerous challenging levels.
Straightforward, intuitive control scheme.
Evolving gameplay with increasing difficulty at each level.
Engaging graphics that enhance the gaming experience.
What are the best online games?