Rider.io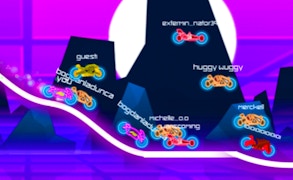 Rider.io
Jump into the adrenaline-fueled world of Rider.io, a game that pushes the boundaries of traditional driving games and stands out amongst its peers as an exhilarating blend of dirt bike and futuristic vehicle racing. Designed to test your agility, this game will draw you in with its captivating neon graphics, addictive gameplay and a relentless race for dominance.
The game is more than just one in the plethora of motorcycle games. Rider.io cleverly melds the fast-paced rushes of a traditional racing game with the strategic nuances of skill games. Every ride requires finesse, understanding of speed, and impeccable timing, transforming every moment into an intense dance between you and your competitors.
Unlike most dirt bike games, Rider.io offers a unique twist: a fusion of past and future as players dash on dirt tracks with neon bikes that can be upgraded with collected diamonds. This exciting feature adds an extra layer of strategy to your gameplay, ensuring you are not only competing against other players but also against the thrilling challenges thrown at you by the game itself.
If it's intense competition you seek in your driving and skill games, Rider.io provides this on an epic scale. Every jump could catapult you to victory or send you spiraling down into defeat. Your heart will thunder in your chest as you make daring leaps onto platforms and navigate tricky curves. The feeling is reminiscent of real-world dirt bike racing – but amplified with electrifying neon aesthetics and breakneck speeds.
In conclusion, Rider.io sets a new standard for motorcycle games. Its blend of competitive multiplayer combats, awesome upgrades, and challenging courses makes it an addictive must-try addition to any gamer's library. So saddle up, rev those engines, and get ready for a wild ride.
What are the best online games?