Reversi Game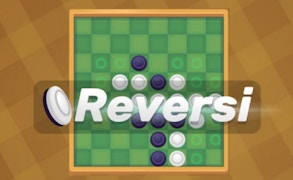 Reversi Game
From the grand vein of classic tactile challenges such as chess games and checkers games, emerges an engaging strategic contest set on a square board - the Reversi Game. This riveting board game, firmly rooted in strategy, offers players an exhilarating mental duel that tests their tactical acumen and decision-making prowess.
The simplicity of Reversi's rules belies the complexity of its gameplay. The principle is straightforward: control more spaces on the 8x8 grid by the end of the game than your competitor. But don't be fooled; every game is a unique test of foresight and cunning.
Reversi serves up a dual setting to battle your intellect against. You can either challenge your friend for an offline face-off or take on bot/AI for those yearning for solo combat. This capacity to toggle between human opponents or AI adversaries offers players an excellent flexibility in sharpening their competitive edge.
In this mind-sport, you'll revel in the chase and conquer strategy that characterizes other board games like chess and checkers. However, Reversi presents these familiar strategies in a fresh ensemble, adding its unique twist that renders even a seasoned chess or checkers player pleasantly surprised.
The Reversi Game captures the vintage charm intrinsic to classic board games like chess and checkers while infusing it with innovative gameplay concepts. This amalgamation makes it a worthy addition to any board game connoisseur's collection and an enjoyable challenge for those seeking new strategy frontiers amidst traditional pastimes.
In conclusion, whether you're a fan of chess games or checkers games, if you've got an appetite for strategy and tactics, then the Reversi Game should be your next gaming adventure!
What are the best online games?