Return Man Football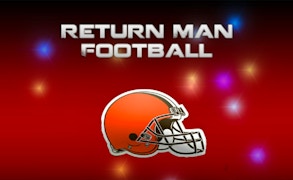 Return Man Football
Immerse yourself in the enthralling world of Return Man Football, a spellbinding addition to football games that leaves a powerful impression on die-hard fans of ball games and Skill Games. This fast-paced, interactive game is the ultimate test, pushing your reflexes and strategic thinking to new heights.
The initial charm lies in the unique setting of each team - be it Atlant, Red Devil, Blue Crow or others. Each with their distinctive aesthetics and stats that empower your gameplay with an exclusive touch of unpredictability. It's not all about winning, it's about playing smart and respecting your opponent. Neglect this aspect, and you may find your hard-earned points dwindling into oblivion.
The true mastery is demonstrating your prowess by controlling the ball from start to finish. It's not just a matter of rote reactions; you'll need to strategize effectively to navigate across the pitch towards the Touchdown line in green zone. But guess what? That's where Return Man Football shines; it delivers such an adrenaline rush that you'll feel like a professional football player at every second of play.
In summary, Return Man Football offers a rewarding blend of strategy and skill-based gameplay that will keep football games aficionados coming back for more. Its compelling teams' selection, respectful behavior importance, scoring method all tied together in a neat football themed package make it one must-try for those seeking an exciting addition to their collection of ball games.
If you think you've got what it takes to strategize your moves cleverly, respect others while hunting glory - get ready to step into the virtual green zone of Return Man Football - where champions are made!
What are the best online games?